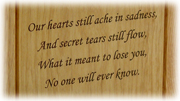 Optional Backside
Poem Engraving

Availability: Usually ships in 3-5 business days.
Sharing/Keepsake Urn
Note: Use for sharing with 4 or more individuals
Inside Size: 4" L X 2.5" W X 5" H
Outside Size: 6-5/8" L X 5-1/8" W X 6-1/2" H
Volume: 50 cubic inches
Sharing/Keepsake Urn
Inside Size: 5-1/2" L X 3" W X 7" H
Outside Size: 8-1/8" L X 5-5/8" W X 8-1/2" H
Volume: 116 cubic inches
Standard Adult Urn
Inside Size: 7-1/2" L X 3" W X 9" H
Outside Size: 10-1/8" L X 5-5/8" W X 10-1/2" H
Volume: 202 cubic inches

Companion Urn
Emblem Size: 4 inch Diameter
Inside Size: 12" L X 4-1/2" W X 8" H
Outside Size: 14-5/8" X 7-1/8" X 9-1/2"
Volume: 405 cubic inches
The Traditional Wood Engraved Fishing Urns are solid wood cremation urns that have a fishing scene engraved into the wooden urn. The Traditional Wood Fishing Urn is a select grade hardwood cremation urn. They are available in four sizes, and can be engraved with text such as name, sentiment, dates and optional backside poem engraving or can be ordered without any engraving. These urns come in two colors Natural or the NEW Chestnut color.

Cremains are loaded through the bottom with the removal of 4 to 8 (depending on urn size) #2 Phillips /Square Head screws. A 2- mil. poly liner is included with each urn to place the cremains into before placing inside the urn.
Proudly Made in the U.S.A.
An optional poem may also be engraved on the back of the urn. Choose from 4 different poems (see poem choices below). Due to the nature of wood products, wood color and grain will vary slightly with each cremation urn.
Click Here to View Backside Poem Choices
Special Note: Optional Chestnut Color may take 5-7 business days to ship.
If Expedited Shipping Service (Overnight/Air) is needed for this item please call or email for shipping quote.