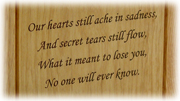 Optional Backside
Poem Engraving
Availability: Usually ships in 3-5 business days.

Sharing/Keepsake Urn
Note: Use for sharing with 4 or more individuals
Inside Size: 4" L X 2.5" W X 5" H
Outside Size: 6-5/8" L X 5-1/8" W X 6-1/2" H
Volume: 50 cubic inches
Sharing/Keepsake Urn
Note: Use for sharing with 2 or more individuals
Inside Size: 5-1/2" L X 3" W X 7" H
Outside Size: 8-1/8" L X 5-5/8" W X 8-1/2" H
Volume: 116 cubic inches
Standard Adult Urn
Inside Size: 7-1/2" L X 3" W X 9" H
Outside Size: 10-1/8" L X 5-5/8" W X 10-1/2" H
Volume: 202 cubic inches

Companion Urn
Emblem Size: 4 inch Diameter
Inside Size: 12" L X 4-1/2" W X 8" H
Outside Size: 14-5/8" X 7-1/8" X 9-1/2"
Volume: 405 cubic inches
The Photo Urns are solid red oak wood cremation urns for people that have an engraved oak photo frame and a glass photo protector. The Photo Urn photograph can be easily added, changed or removed from the front of the urn without opening the actual contents of the cremains area of the urn. The Photo Urns are available in four sizes and two colors, and can be engraved with text such as name, sentiment, dates and optional backside poem engraving.
Proudly Made in the U.S.A.
An optional poem may also be engraved on the back of the urn. Choose from 4 different poems (see poem choices below). Due to the nature of wood products, wood color and grain will vary slightly with each cremation urn.
If Tears Could Build A Stairway
If tears could build a stairway
and memories a lane,
I would walk right up to Heaven
and bring you back again.
Never Forget
Your presence we miss,
Your memories we treasure,
Loving you always,
Forgetting you never.
Losing You
Our hearts still ache in sadness,
And secret tears still flow,
What it meant to lose you,
No one will ever know
Forever In My Heart
Gone yet not forgotten,
Although we are apart,
Your spirit lives within me,
Forever in my heart.
Poem Below for
Medium Poem Vine Border ONLY

Broken Heart
If I could have a lifetime wish
a dream that would come true
I'd pray to God with all my heart
for yesterday and you.
A thousand words can't bring you back
I know because I've tried
And neither will a million tears
I know because I've cried.
You left behind my broken heart
and happy memories too
I never wanted memories...
I only wanted you.
A Bridge Called Love
It takes us back to brighter years,
to happier sunlit days
and to precious moments
that will be with us always.
And these fond recollections
are treasured in the heart
to bring us always close to those
from whom we had to part.
There is a bridge of memories
from earth to Heaven above...
It keeps our dear ones near us.
It's the bridge that we call love.
Click Here to View Backside Poem Choices
Special Note: Optional Chestnut Color may take 5-7 business days to ship.
If Expedited Shipping Service (Overnight/Air) is needed for this item please call or email for shipping quote.