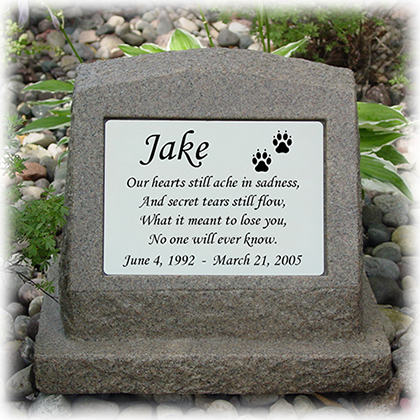 Black Granite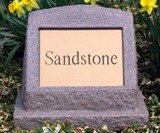 Sandstone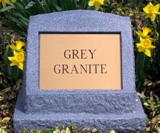 Grey Granite
Availability: Usually ships in 1-2 business days.
Size: 15" L X 9-1/2" W X 12-1/2" H
Volume: 625 cubic inches
Pet Size: 1-600 lb. (approx.)

Our Tombstone Pet Grave Markers are crafted from linear low density polystyrene that gives the look of real granite stone. They are UV resistant and very strong and durable to many of the harmful conditions associated with the outdoor environment. With a beautiful variety of colors to choose from, you will be able to express a lasting message of love and admiration for your beloved pet with our unique and personal pet memorials.

    The Tombstone Pet Grave Markers measure 15" L X 9-1/2" W X 12-1/2" H. The front has a recessed area that is 6-1/2" X 9-1/4" where the plaque is attached. The marker comes with a UV resistant personalized engraved brass colored plastic plate with black text. The marker is meant to be filled by the customer with sand, stones or any other item to give the marker some weight to prevent marker from being blown over or easily moved. Once marker is filled it will weigh approximately 45 lbs (+/-).
Made in the U.S.A.
Click Here to View Poem Choices
Special Note: If Expedited Shipping Service (Overnight/Air) is needed for this item please call or email for shipping quote.