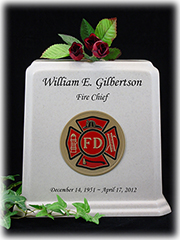 White Granite
Fireman Urn
with Black Lettering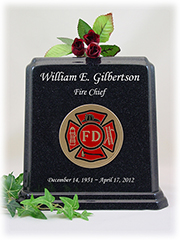 Black Granite
Fireman Urn
with White Lettering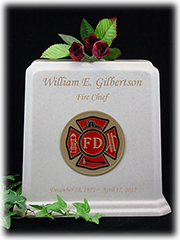 White Granite
Fireman Urn
with Gold Lettering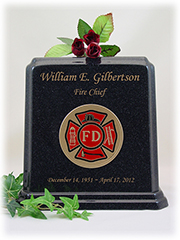 Black Granite
Fireman Urn
with Gold Lettering
Availability: Usually ships in 1-3 business days.

Urn Specifications:
Size: 10"(L) X 5-3/4"(W) X 9-3/4"(H)
Cubic Inches: 240
The Cultured Granite Fireman Urns are made from crushed granite & epoxy combination. The special mixture of the two materials creates a superior material that will not corrode like metals, decay like wood, or shatter like ceramics. The Cultured Granite Fireman Urns are polished to a beautiful high gloss glass-like finish.

Cremains are loaded through the bottom with the removal of a screw plug
Special Note: If Expedited Shipping Service (Overnight/Air) is needed for this item please call or email for shipping quote.