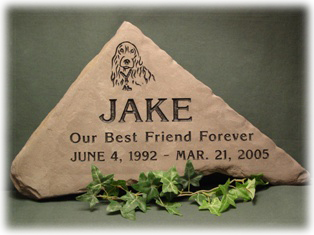 Small (Irregular)
Size: 5"-10" Long
Regular Price: $89.95
Sale Price: $74.95
Includes: 1 word up to 8 engraved characters & 1 image
Large (Irregular/Rectangular)
Size: 12" X 8"
Regular Price: $154.95
Sale Price: $129.95
Includes: 3 lines up to 20 characters per line & 1 image
Lilac Color



Small (Irregular)
Size: 5"-10" Long
Regular Price: $89.95
Sale Price: $74.95
Includes: 1 word up to 8 engraved characters & 1 image
Large (Irregular/Square)
Size: 12" X 12"
Regular Price: $154.95
Sale Price: $129.95
Includes: 3 lines up to 20 characters per line & 1 image
Availability: Usually ships in 5-7 business days.

Colors: Blue-Gray or Lilac.
Sizes: Small (Irregular) 5"-10" Long and Large (Square/Rectangular) 12" X 8"-12"

Irregular and Square shaped pieces are tumbled to achieve semi-smooth side and edges.
Stone inscriptions are stencil carved, sandblasted and then stained with black acrylic stain or lithochrome paint.
Special Note: Because stones are a natural product shapes may vary, no two are alike and may vary in shape from the photos above.
Made in the U.S.A.